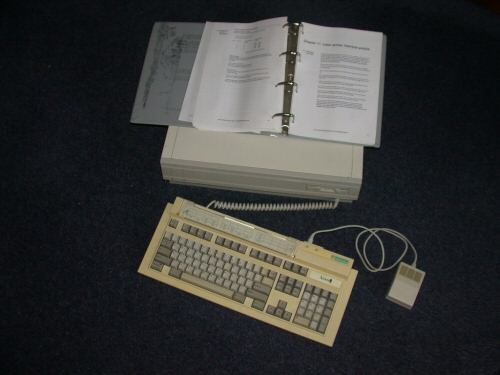 This text is from an auction listing and is reproduced here for historical reference.

Acorn A680 Technical Publishing System
This machine was built by Acorn in 1988 as one of the prototypes for a desktop
publishing system to be sold by Olivetti. The system was never put into production
so the remaining prototypes are very hard to find.
This is thought to be the first to appear, though one or two have been on Usenet.

The A680 runs a variant of BSD 4.3 Unix called RISCiX : although the A680 was the
first machine built to run RISCiX, it was used to develop versions later released
on machines similar to the Archimedes series; the R140, R260 and R225.
However, the A680 had substantially different (and more expensive) hardware than those
machines with many built-in features that were options on the later models.
It was therefore in use at Acorn long after the R140 was complete and didn't become
obsolete until spare R260s were available.

The auction is for an A680 (serial number 147) in working order and fitted with SCSI,
Ethernet and Laser Printer interface podules. These are in addition to the on-board SCSI
interface intended for an external scanner. The Laser Printer (lbp) podule is especially
rare as most A680s used for development purposes had these removed.

Also included is the hardware technical reference manual - about 250 pages with schematics
of the main board and podules together with a great deal of technical information about the
operation of the system. Parts of this TRM (description of the podule bus) became the
developer's reference for the Archimedes line.

Original ARM2 has been removed and an ARM3 upgrade fitted.

Original 67MB Rodime disc has been removed and a Connor 100MB disc (as used in the R260)
fitted. The original Rodime disc can be included, but no longer works (this is too small
for the version of RISCiX). Some additional wiring has been added to assist the
connection of a VGA monitor (the A680 in standard form was used with only a monochrome
monitor). This can easily be removed. The keyboard is a standard Archimedes keyboard and
has some unreliable keys. As far as I know, there was no special A680 keyboard.

The software installation is RISCiX 1.21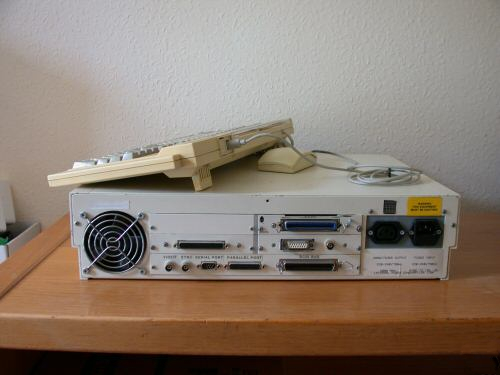 A general rear view of the machine.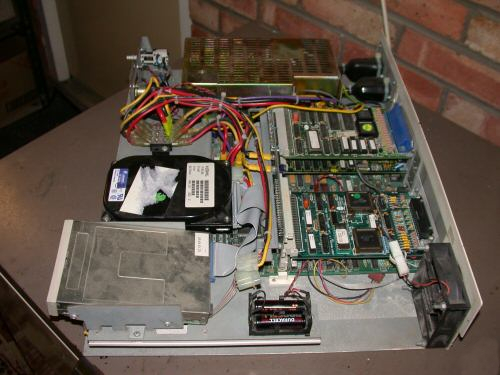 A top-down view of the machine with casing removed.



If you have arrived here from a Search Engine
Click the link below to go to the Classic Acorn Home Page
Everyone else use the Navigation Section on the Left
&lt---------------------------------------------------