Fitting and Configuring a Processor slot
PC Card to a RiscPC 600
These instructions also apply to 700 and StrongArm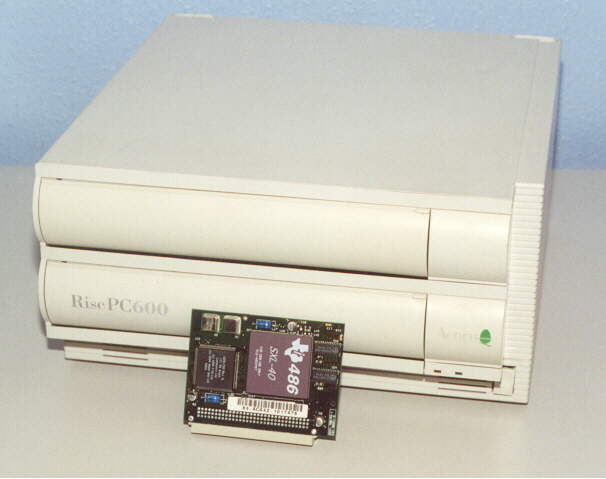 This is a RiscPC 600 that I am going to fit a Processor slot PC card into.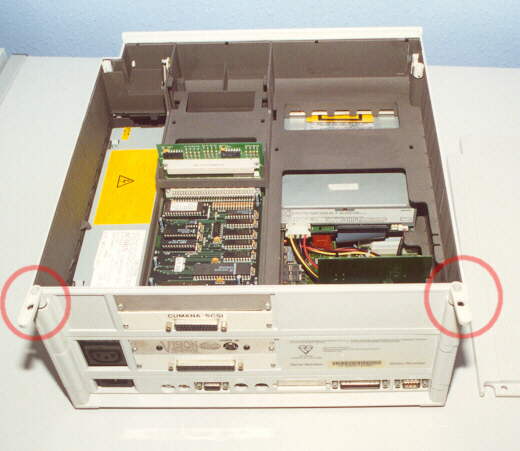 First remove the top cover by turning the rear locking pins through 90 degrees and lifting the cover off.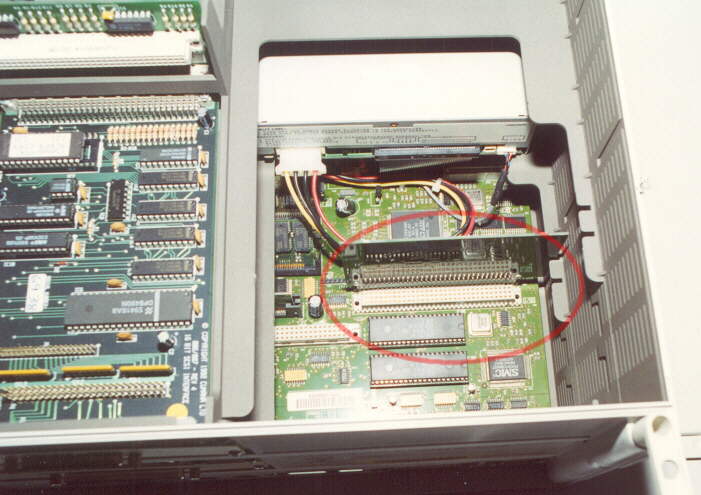 Next locate the 2nd processor slot, it is the rear-most of the two. Fit the card by pushing it onto the
connector on the mainboard. Note, it can only be fitted ONE way round.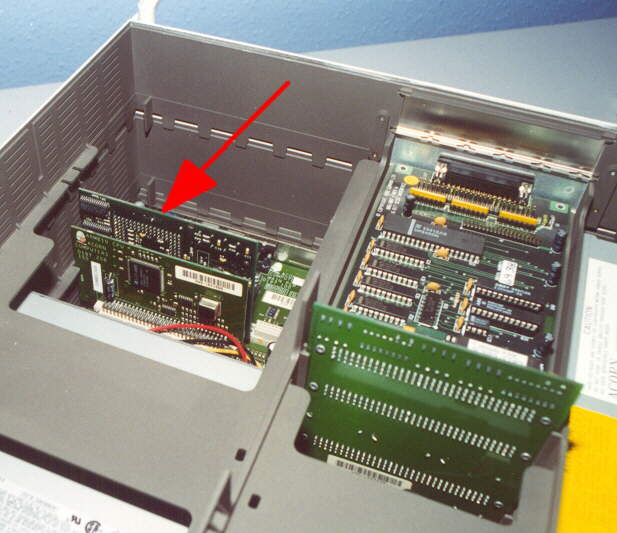 A reference shot from the front of the case showing the PC card in position behind the ARM 610 card.
I couldnt take the image from the rear because the angle was to steep to show the card in position.
Getting Started
You will also need;
PCx86.ARC
This is the Software Archive required, it can be found on the AlephOne website if I remember correctly.
A full and LEGAL version of MS-DOS. I have used version 6.22 on original discs.
A full and LEGAL version of Windows For Workgroups 3.11
!Sparkplug - this is required to decompress the PCx86 Archive when you get it onto the RiscPC.
A copy of ARMDRV.DRV - this is the video driver for use with Windows.
The original VGA driver works fine but this gives a greater speed increase.
I will only summarise the process here as a full and easy to follow set of instructions is included in the
PCx86 archive entitled "userguide" So, create a directory called "PC" on the Acorn machine, copy the PCx86.arc
to that directory and decompres it using !Sparkplug. Next open up the "userguide" document and follow the instructions.
The process from start to finnish should take you no more than 20mins.

If you have arrived here from a Search Engine
Click the link below to go to the Classic Acorn Home Page
Everyone else use the Navigation Section on the Left
&lt---------------------------------------------------