The website started life on the 1st January 2003.
It's main goals were to promote the Restoration, Repair and Upgrade of computer
hardware and perhiperals manufactured by Acorn Computers Ltd here in the UK.
Unfortunatly Acorn Computers Ltd are no longer with us, but the hardware is
kept very much alive by many personal websites that work to promote the brand.
Many companies are keeping RISC OS Hardware in use by providing updated or new software.
Other's are exploring new and exciting hardware to which RISC OS is being ported.
My fascination with this particular brand of computer started way back in the 1980's, this was
the start of the "Home Computer" boom here in the UK with many small but upcoming companies
competing for this fresh market. Including the likes of; Acorn, Sinclair, Dragon Data etc.
See the section "A Computing Journey" to discover how I started out in computing, from the most
basic machine, to where I am now in 2018 with my most powerful and reliable equipment to date.
Hopefully the contents of this site will help interested individuals maintain and continue to
enjoy their machines, be it just for nostalgic gaming, programing or even daily serious use.
The collection of Hardware that I had aquired which at one point numbered sixty three machines!,
has now been moved on to other enthusiastic owners to look after, but I have the memories.
This website is my contribution to the Vintage/Retro computing scene, and I hope that it will live on,
within the internet as a snapshot of technology from the era of great innovation, competition and fun!.
What better way to promote this fine brand of computer technology and best of all, It was British !.
Rich.

Below are some images illustrating part of my collection that has now moved onto new owners;


From Left to Right; BBC Master 128 with Internal 65C102 Co-Processor and External 1Mb 80186
Internal Morley 12 ROM Board, Marconi TrackerBall, Technomatic Dual 40/80T 5.25" Floppy Drives
Watford Electronics Hand Scanner and Dixon's Tape deck which is a clone of the Acorn Version.
Next machine is a Acorn A3020 with Hard Drive, just used for a bit of light RiscOS gaming.
Finally a Windows 98SE gaming rig with MS-6163 Pro Mainboard, 512Mb Ram, P3-1000Mhz CPU at 100Hz FSB
Nvidia Geforce 3 ti-500 Graphics, SoundBlaster Live and 80GB & 20GB Hard Drives. (pic circa 2005)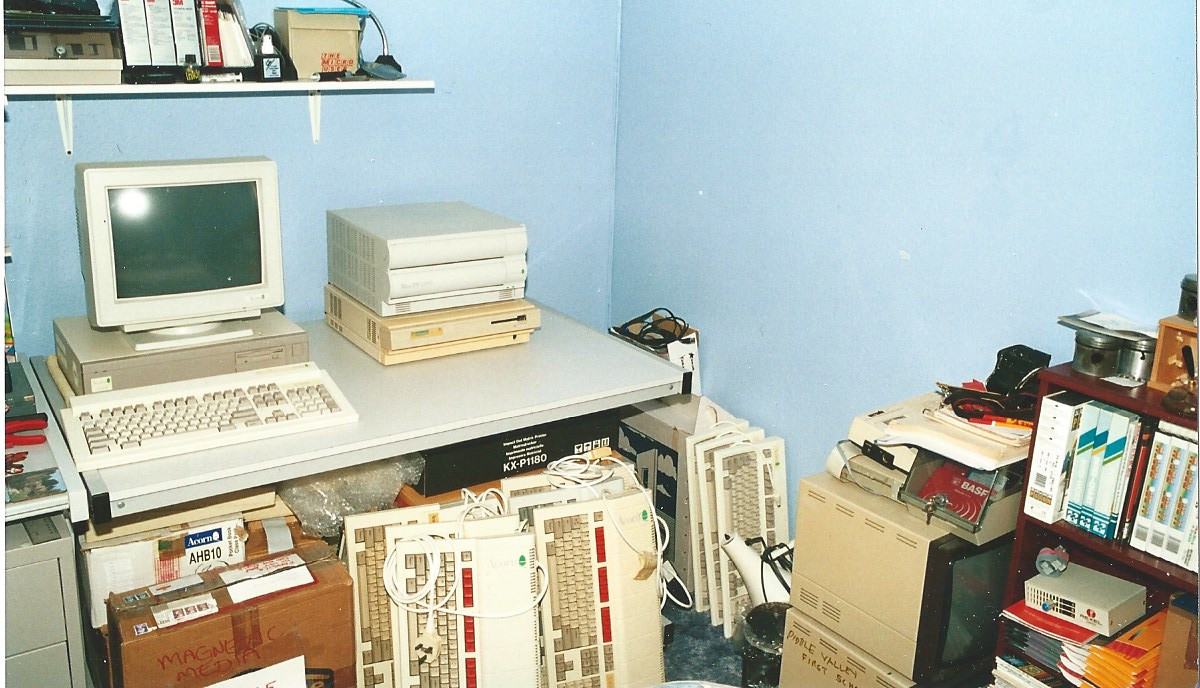 Acorn A5000, RiscPC 600 Dual Slice, Archimedes A310 with RiscOS 2, A few A3000's & A3020's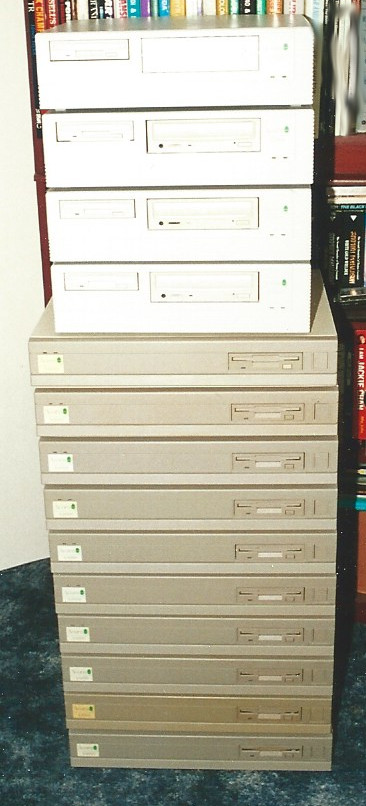 A stack of 10 Acorn A4000's, 3 x A7000's and 1 x A7000+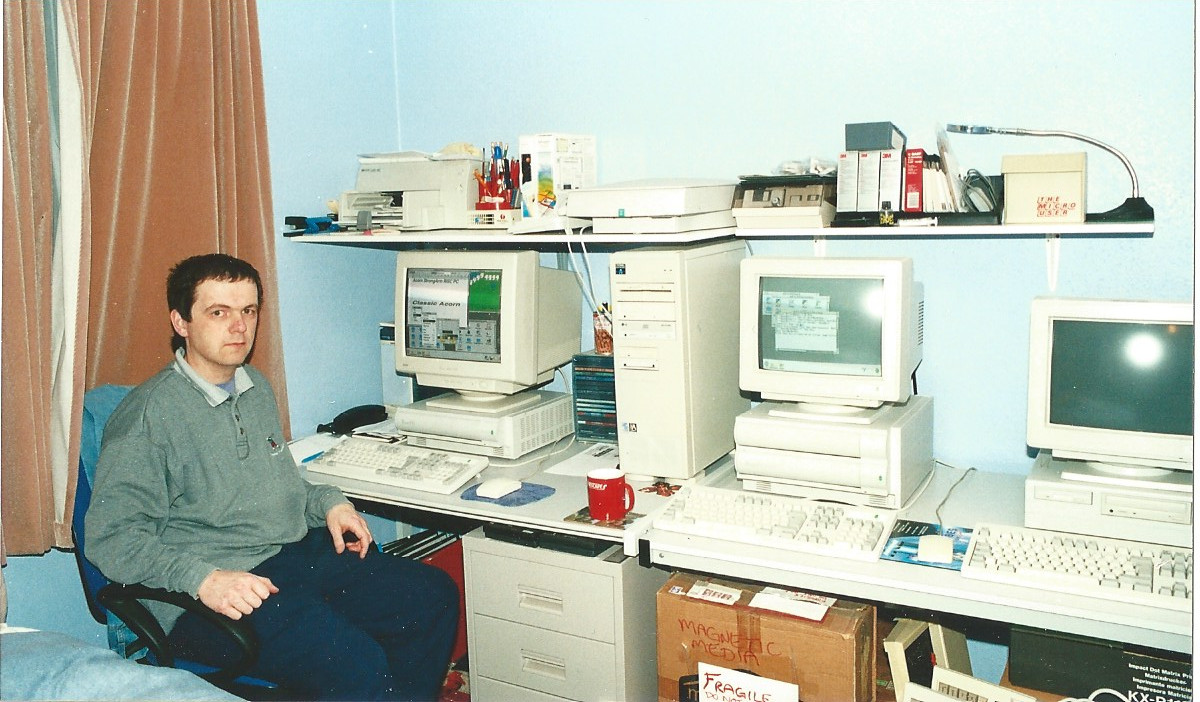 Oh I look young there. Got to have been taken circa 2000 - 2005, at the Classic Acorn command centre.
StrongARM 233 Risc PC (my main workhorse), Another p3-1000 Windows 98 PC, RiscPC 600 & A7000+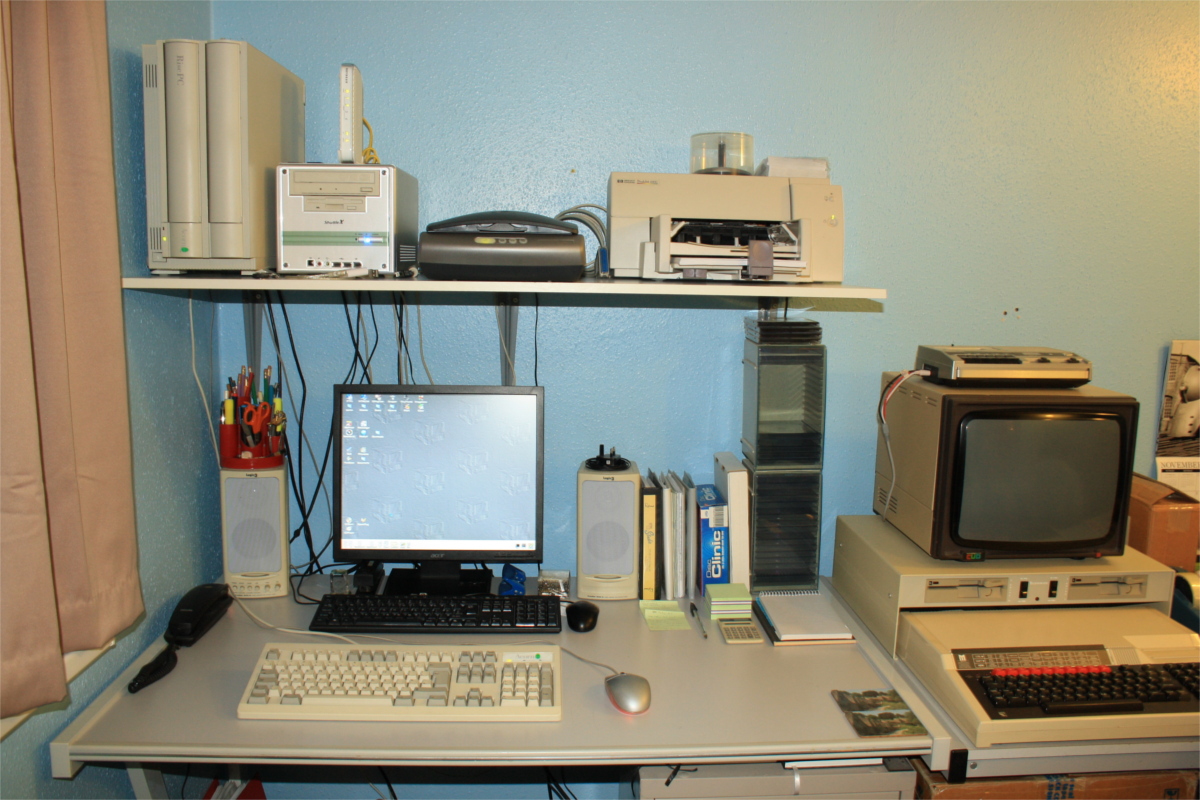 Classic Acorn Control during its peak. StrongARM RiscPC, Shuttle XPC Linux Machine, BBC Master 128
You know, I actually miss that RiscPC. For its time it was very powerful, and Risc OS was fast and efficient.